We have quite a few opportunities for you to review, so let's get right to it!  You have a couple opportunities to give during the Christmas season.
• • •
OPPORTUNITIES TO GIVE
• • •

Support Mile High Ministries Christmas Store with the gifts being purchased by parents and caregivers for kids. Here's a little more detail on the program you are supporting:
The families that will be shopping will be residents and former residents of Mile High Ministry's Joshua Station, the old motel at 8th and I-25, where needy families, often mothers escaping an abusive relationship, live for 2 years as they are trained in life skills, given free legal help,  and put on a path of self-sufficiency with job skill training.
Each child shopped for receives two presents (the children are not present), and the parents pay $5 for each present. It was discovered years ago that this "skin in the game" preserves dignity, taking the store out of the charity realm, and converges into the path they are on leading to overall self-sufficiency in life.  About 500 presents will be sold at the store, being held on 2 December at Joshua Station. After the parents pick out the toys, volunteers wrap them, so that they can be taken home to be unwrapped by the kids on Christmas day.
Please bring unwrapped gifts to church to leave in the collection box by the HUB by November 26. There are also other ways to support this ministry, click here for more information. Questions, please call or text Lee Robinson at 303-918-8456.
THANK YOU FOR YOUR AMAZING SUPPORT OF THIS PROGRAM!
And a shout out to the volunteers from Centennial who are manning the hospitality booth at the Store: Lee and Ellen Robinson, Grace Ellsworth, Scott and Kathi Meyer and Tim and Kari Peterson. Thank you!!
• • •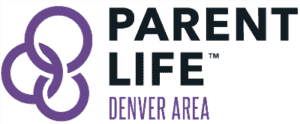 The Parent Life Tree will be up on November 12th with the names, ages and suggested gifts for these babies and toddlers who are children of the teen parents participating in the Parent Life program. Take a slip and then return the gifts to Centennial by November 26th. Questions, please text Jill Meyer at 303-522-6332.
And a shout out to Jill for her hard work compiling these information slips for each child.  If you would like to help Jill in this, please text her at the number above.
THANK YOU FOR OUR OUTSTANDING SUPPORT OF THIS PROGRAM!
• • •
UPCOMING EVENTS
(in chronological order)
• • •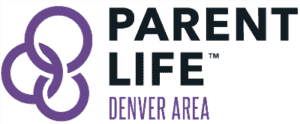 Tomorrow Night! November 9th
Grand Opening of the ACO House
6:00-8:30 p.m.
ACO (pronounced Aye-Koh) is the New Community Center Denver Youth For Christ has renovated for their programs in the Aurora area. Parent Life will be located in this building with access for the teen parents who participate in the program.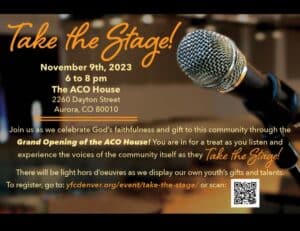 • • •

Saturday, November 11
Mystic Strings Concert to benefit Love INC, St Luke's UMC, 8817 S. Broadway
7:00–8:15 p.m.
• • •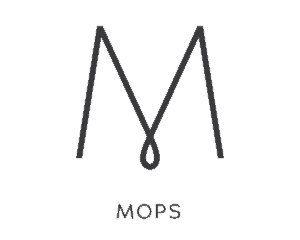 November 17
Britta Beblavi, dietitian, will present on Healthy Body Image – for ourselves and our kids! You can learn more about her work by clicking here: https://www.growwellnutrition.com/
December 1
Adam Wilson, a licensed professional counselor and a professor of counselor education and supervision, will be presenting on Parenting Topics. You can read more about Adam and find additional resources here: https://denverseminary.edu/directory/wilson-phd-adam/
December 15
Christmas Celebration
Remember – MOPs includes a brunch and quality childcare for your kiddos as well as adult study, mentoring and visiting time!
• • •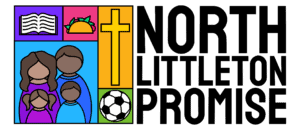 December 12
Provide a meal to 12 children in the NLP afterschool programs. Slots are almost gone, please sign up right away to grab this slot!
Contact Brie McMahon with drop off questions, 303-667-4677
Drop-off time: 3:45 p.m.
Drop-off location: East Community Center. 5933 S Fairfield Street, Littleton 80120.
• • •
PRAYER REQUESTS
• • •
North Littleton Promise
Praise God for His provision at the Fiesta! We met our fundraising goal and raised $50,664!  The night was a wonderful collaboration of families, volunteers, sponsors, and guests!
Parent Life
We are in search of a Parent Life Director. We want to pray that God sends the right person and can connect well with our students and team. Additionally, that whoever comes is who God desires and has been called by Him. We are believing for God's best.
With renovation taking place on the center we have to move a breaker box that is connected to the entirety of the Youth Center. That box is delayed in its arrival pushing back our center opening date. Prayers for timely arrival and smooth transition into the opening date.
Love In the Name of Christ
Thank you for your prayers and connections as we still seek to fill three key positions at Love INC. They are: Connection Center Coordinator, Church Engagement Coordinator, and Marketing and Communications Specialist.
Please direct any interested candidates to the postings on our website at: https://loveinclittleton.org/employment-opportunities/
• • •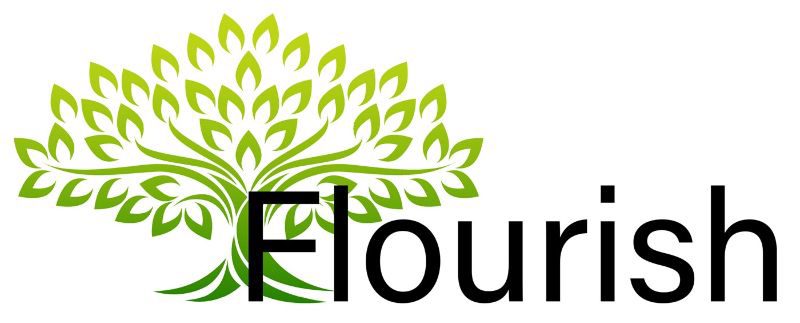 What is Flourish?
Flourish Metro Ministries is the CentCov Team of volunteers who work with our local partner ministries, including:
North Littleton Promise  •  Love INC  •  Parent Life (Teen Moms and Dads via YFC)  •  The Master's Apprentice Program  •  Issachar  •  MOPS  •  Housing Assistance Ministry
Our goal is to help those in our local area flourish by serving them as the hands and feet of Jesus.
If you would like to know more about Flourish, our ministries or how to join the team, please contact Flourish@centcov.org